Joshua Jagan Hamilton professionally known as Lil Darkie is an animated cartoon experimental trap metal artist from Long Beach, California. He is the founder of the groups Gunk Rock, The Faggets, and Spider Gang. His music genres differentiate with each song release which can range from Country to R&B.
Before he was named Lil Darkie he went under the alias Brahman. A blue colored rap artist which was focused on the lyric side of Lil Darkie. Brahman's music can still be found and listened to online.
His first-ever single released under his new alias "Lil Darkie" titled "No Hands" was released on April 4, 2018. Darkie has been releasing music pretty consistently, with some breaks to work on albums, mental health, etc.
On October 6, 2020, to celebrate his 22nd birthday he released the music video to his song titled "BATSHIT" on his YouTube channel, the video is under #Music Videos
Discography
[Albums]
Kill Yourself [2018]
Swamp Drained [2019]
This Does Not Exist [2020]
YIN [2020]
SWAMP [2020]
[Mixtapes]
[EPs]
Shoot People You Don't Like [2018]
Drain the Swamp [2018]
Christ Dillinger & Lil Darkie - Scooby Doo Death Shit [2019]
Take This Mushroom [2019]
We Are Behind an Object [2020]
Achievements
Popular Songs
Genocide
HAHA
drink my piss you nasty slut yea
HOLOCAUST
rap music

Best Lyrics
Music Videos
The following music videos are missing because the description won't let them be added (because fandom is afraid of the N-word: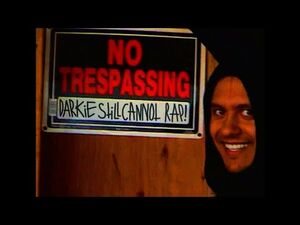 Community content is available under
CC-BY-SA
unless otherwise noted.